Cape Karoo Guesthouse has six luxury en-suite units available with the option of booking breakfast and dinner at an additional cost or reserve a braai area to have your own braai.
Braai packs are available on request. Our rooms are decorated with beautiful rustic details giving each room a unique sense of style.
(Three pet-friendly rooms)
French Karoo has six luxury en-suite units available with the option of booking breakfast and dinner at an additional cost or reserve a braai area to have your own braai.
Braai packs are available on request. Our rooms are decorated in a French style.
(Not pet-friendly)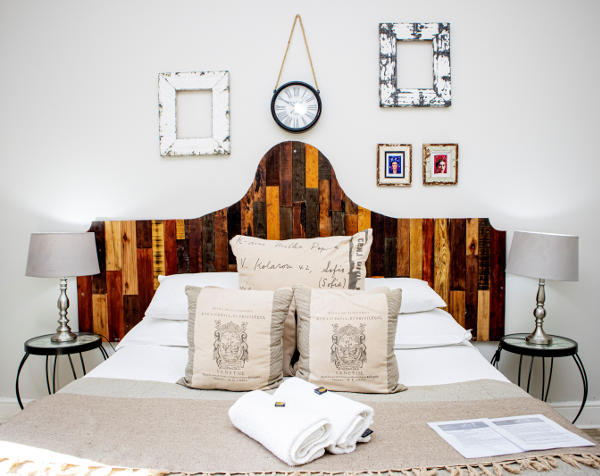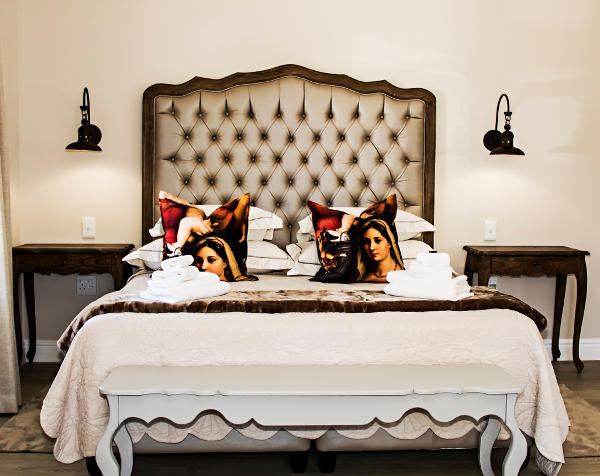 Cape Karoo Guesthouse is a fascinating Victorian-style mansion, designed by Sir Herbert Baker and built in the late 1800s. Today this 4 star Guesthouse offers luxury old charm and hospitality in a safe and beautiful environment. The old couch hall and dairy were converted into spacious bedrooms with mini-kitchenettes and en-suite bathrooms. We invite you to come and experience the peace and serenity of this luxurious Guesthouse posed against a backdrop of the majestic Nieuweveld Mountains in the heart of the Great Karoo.
We are located in a quiet suburb on the outskirts of Beaufort West and we offer secure off-street parking behind gates, electric fencing connected to armed response and CCTV cameras ensuring a peaceful night's rest.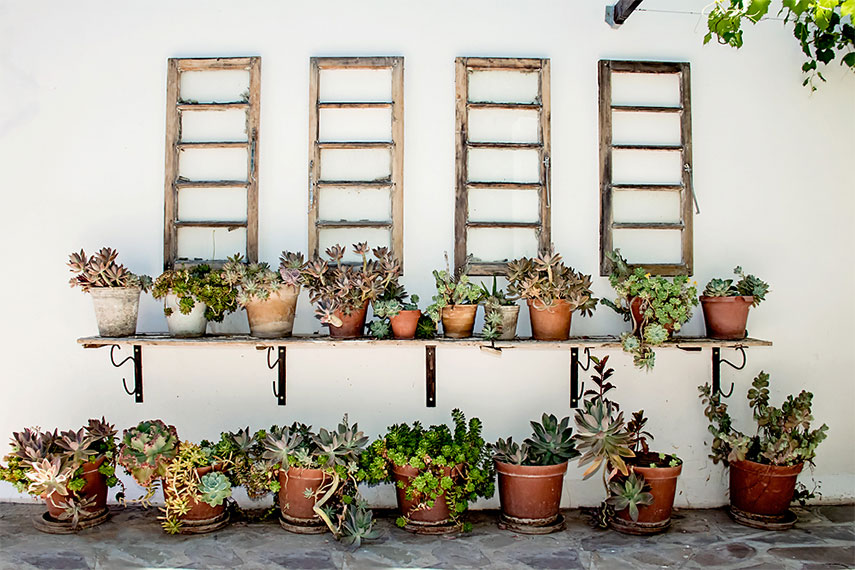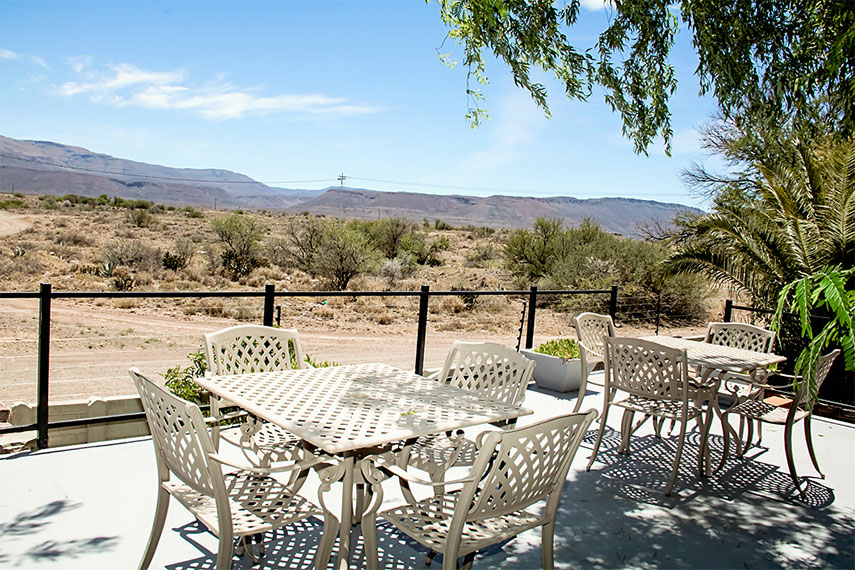 Cape Karoo Guesthouse caters for tourists, families, business travelers or honeymooners alike. This elegant oasis has six en-suite rooms each with its own entrance. Rooms lead to a refreshing country atmosphere in the enchanted garden and there is the popular deck with the most amazing 360 degree views of the sun set in the evenings. We also offer a pool at our neighbouring guesthouse across the road, French Karoo Guesthouse. Our guesthouse is also child friendly and three of our rooms are pet-friendly they are Afrikaroo, Dei Gratia and the Windpomp.
Breakfast and dinners are also available at an additional cost. Alternatively, you can reserve a braai area to have your own braai. Braai packs are also available to make your stay as comfortable as possible.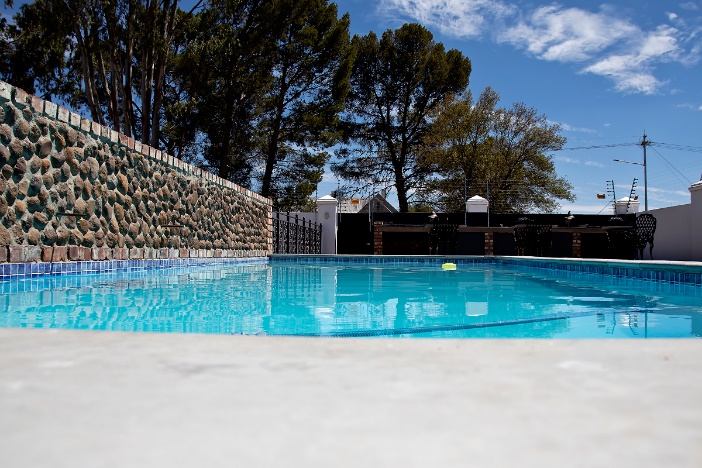 French Karoo Guesthouse This four-star, upmarket, yet affordable guest house in Beaufort West will transfer you to France. The team's love for French decor and hospitality reflects the service that we offer. French Karoo Guesthouse is known as one of Beaufort West's best kept secrets. Set against the rugged Karoo mountains with warm hospitality and French charm, this gem is awaiting anyone looking for a serene experience in the Karoo. There are just six suites, overlooking the breathtaking Karoo mountains.
We offer secure parking behind gates, electric fencing connected to armed response and CCTV camaras. Outside all the rooms, under the veranda, guests can have an early morning coffee or sunset drink. The swimming pool is an ideal place to relax during the warm summer months. The guest house ensures it's eco footprint is green, using organic, natural cleaning products and water-saving mechanisms with borehole water. Unfortunately, we regret that French Karoo Guesthouse is not pet friendly. If you are travelling with a pet, feel free to consider Cape Karoo Guesthouse which do accommodate pets.
Kindly note that only have one reception between Cape Karoo- and French Karoo Guesthouse. When checking in, please follow the check-in signs to Cape Karoo Guesthouse first before checking into your room at French Karoo Guesthouse.
Breakfast and dinner can also be arranged at an additional cost, alternatively, there are braai facilities available for our guests to have their own braai. We do sell braai packs, please arrange for dinner or a braai pack in advance if you are interested in these options.
Each Luxury unit is equipped with
RESERVATION & CANCELLATION POLICY

• After a payment of a minimum deposit of 50%, your reservation is final.
• In event of premature departure we may charge for the full original booking.
• Cancellation: 0-14 days before date of arrival (or no show): 100% of deposit.
• Cancellation: 15-28 days before date of arrival: 50% of deposit.
• Cancellation: +29 days before date of arrival: 25% of deposit.
• Tariffs are subject to change without prior notice.
• Check in from: 14:00 (earlier arrival with arrangement)
• Check out: 10:00
• Credit card facilities available.
Testimonials
"An absolute GEM!! Super comfortable, luxurious with great hospitality!"
The Graney's
Noordhoek
"Treated like royalty- finding a 'PEARL' in the heart of Beaufort West- We'll be back!! Thanks for great hospitality – HOME AWAY FROM HOME!"
The Ryan's
Cape Town
"Thank you for a fabulous stay. We love all the attention to detail and the beautiful décor"
Krystal & Christina
Hout Bay, Cape Town
"Wat 'n prag paradys, baie dankie vir die gasvryheid en heerlike ontbyt!"
Annelize van Zyl
"Beautiful guest house! Such love and care has gone into every detail"
Barbara & Terry
"Picturesque surroundings, unique location"
NZ
"'n Absolute oase so in die middel van die dorre karoo! 'n Pragtige plek met heerlike kos en die vriendelikste mense!"
Dewan & Annaliza van Wyk
Jacobsbaai
What To Do
Things to do and places to explore
Beaufort West is not just a stop-over town, but a unique destination in the heart of the Karoo waiting to be explored. Cape Karoo Guesthouse, a member of the Beaufort West Tourism Bureau, is located near all the main attractions the town has to offer.